Present wise, men can be a challenge. I'm sure many of you will have the same problem as me. Your husband/ boyfriend/ partner already has a watch, a belt, wallet, nice leather man bag. Over the last few years I have resorted to personalised iPad cases, diaries and even a pocket watch. Short of playstation games (which I refuse to buy) and socks I'm out of ideas.
So I thought I'd put together some of my favourite gift ideas for my husband who truly has everything in case any of you guys have a man in your life like this! I think these gifts are all things which my husband would really like and genuinely use as well.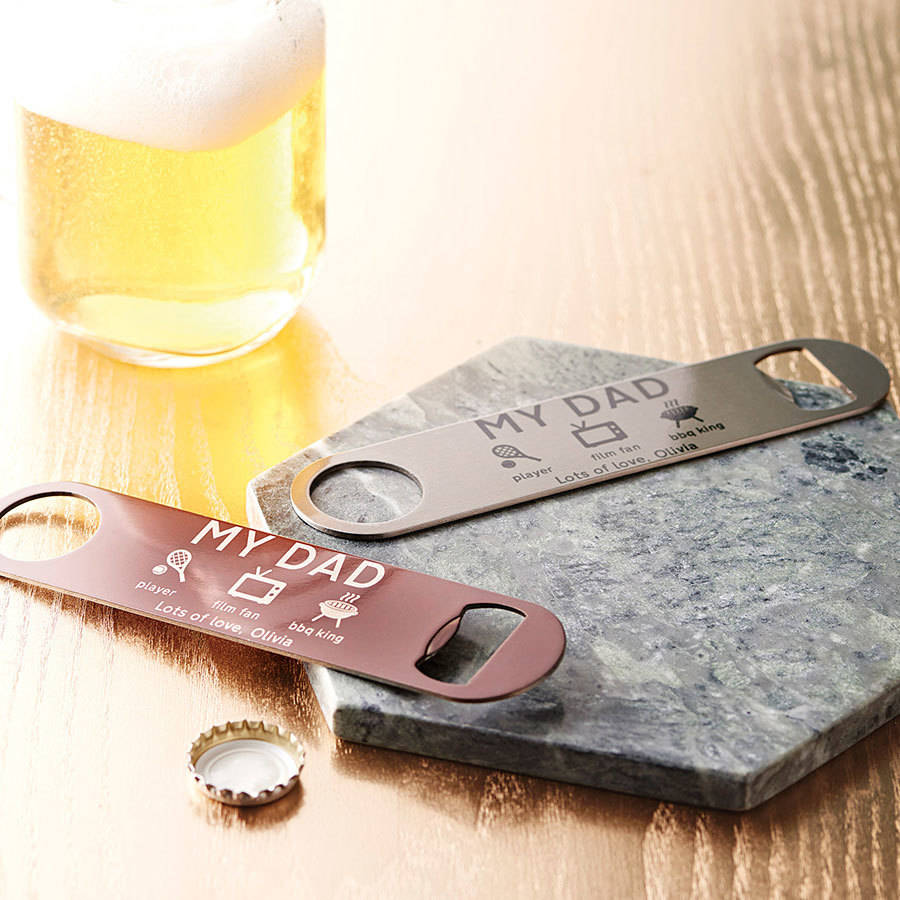 Personalised Bottle Opener £10- notonthehighstreet.com
Brilliant for the beer lovers and socialisers, and also a really cute personalised gift. You can put names, messages or things they like on it for that real personal touch.
Virtual Reality Headset £17.99 – Iwantoneofthose.com
My hubby tried one of these out a few weeks back that belonged to a friend and he raves about it! And I don't think you need to be a total techy to appreciate these either. Simply link up to your smart phone and get totally emersed in movies/games and the like.
Modern Gents Shaving Kit £20 – The Body Shop
I'm a big fan of The Body Shop's men's ranges and I love the smell of the modern gent line. This shaving kit is classy and comes with a traditional brush and wash bag which are both practical and will look suave on your bathroom shelf. Win win.
Personalised Scrabble Print £29.99 from Getting Personal
A bit soppy yes, but if your guy is a bit of an old romantic, or indeed obsessed with Scrabble (as mine is) this is a really cute gift idea. It may not be something they would buy for themselves, sure, but it will definitely make them go 'awhh'.
Bow Tie £20-£40 from Mrs Bow Tie
What man wouldn't want a groovy bow tie for his collection?! And even if he doesn't wear it it's still a lovely, classy thing to own. Mrs Bow Tie are an amazing online supplier who stock every single bow tie you can imagine from plain, rainbow, floral, animal print, union jack and even a Dr Who bow tie collection. My other half bought his wedding bow tie from Mrs Bow Tie and it's fantastic quality.
Saint Christopher Leather Bracelet £32.99 from Cherish Us (Etsy Shop)
I actually bought this for my own hubby last year and he really loves it. Saint Christopher is the patron saint of travel and essentially his symbol is supposed to bring safe travel and protection to those who possess it. It's a lovely sentiment and makes a really nice (but still manly) piece of jewellery.
Gin Explorer Club Monthly Subscription £24.99 per month or £279.99 annually
If your man is a gin fan, or indeed if you are a gin fan, then this really is a fantastic idea. And I can almost guarentee he won't have thought of it himself! Sign up to the Gin Explorer Club and every month you will have a gorgeously presented gift box delivered each month, containing 4 differently bottles of gin (double measures) from around the world, some mixers and information about where is the world your gins have come from. It's a really creative gift for the gent in your life.
Hangry Art Print £8.22 from Etsy
A bit of a joke gift – but if your other half is anything like mine then this will ring true with him! Something to put in the kitchen as a bit of a laugh and a talking point!
A meal at Hawksmoor London from £35 for a meal
I know, I know; a bit of a stereotype. MAN LOVE STEAK. But if it's the case then this place needs to be tried out by you and your cave man. The best steak in London is a bold claim and I'm determined to find out if it's true very soon! I haven't been myself yet, but I've heard the food is wonderful and well worth the price tag.
Christmas Indulgence Hamper £80 from Interflora
And finally, if you really want to push the boat out with your Christmas spirit then how about this luxurious hamper for the special person in your life. Packed full of biscuits, snacks, mince pies and wine – there's no way he could finish it on his own, so you'll get a look in too!
🌟
I hope some people will find this helpful, I know how difficult it can be sometimes trying to come up with a creative and cute idea for a gift for my husband, sometimes you've just got to think outside the box!
Happy shopping!
IF YOU ENJOYED THIS PLEASE VOTE FOR ME IN THE UK BLOGAWARDS 2017 IN LIFESTYLE CATEGORY:
http://blogawardsuk.co.uk/ukba2017/entries/jessica-emily